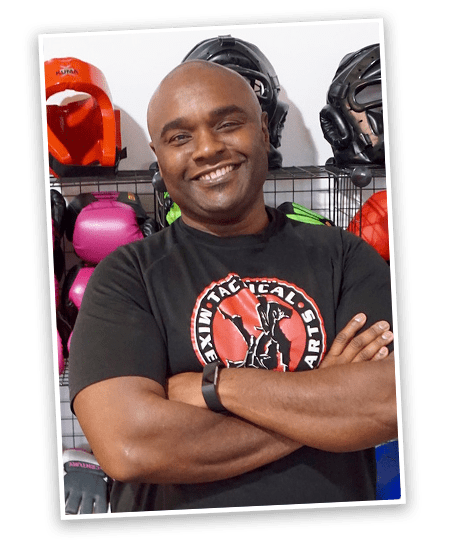 Tony Jones
Sensei Tony began practicing traditional, Japanese, Ju-Jitsu at the age of 8 under Master Michael J. Smilley. He left for college at 18, with a black belt in Ju-Jitsu. While studying under Master Smilley, Sensei Tony qualified for the rare opportunity to help teach tactical offense to Chicago law enforcement.
Sensei Tony moved to Ames, to attend Iowa State University and study martial arts under the world renowned, Grandmaster Yong Chin Pak. He earned his first degree black belt in Hapkido in 1990. He also holds various belt rankings in Judo,Tae Kwon Do, Kendo, Karate, Sin Jitsu, MMA, and a variety of small weapons training. While at Iowa State, Sensei Tony earned an Outstanding Leadership & Dedication Award from the Iowa State University Martial Arts Association. He also is a member of the SIBBA (State of Iowa Black Belt Association).
After college, Sensei Tony, moved to the Quad Cities and taught Self-Defense & Rape Prevention classes. After a hiatus in order to raise a family, Sensei Tony has returned to his passion for teaching tactical mixed martial arts. By studying a large variety of martial arts it has given him the ability to draw out the most effective techniques for every day, practical, self defense for people of all genders, size, and age.
Sensei Tony states his martial arts school philosophy this way, "I believe Martial Arts is just that; an art. It is an ever growing, ever changing art that not only encompasses the body and understanding how your body moves and how to effectively move an opponent's body with the least amount of effort. It also encompasses the mind and understanding how people think and training your own mind to remain calm and not panic; because panic causes fear and fear can be paralyzing."